Sanjeev's Pandemic Story
Our CREATE series of articles are multiplying, showing the creativity, productivity and positivity that has emerged in our communities during lockdown. Here Sanjeev, Pathfinders Development Officer, explains how he tried his hand at making some hip hop tracks.
Usually I'm an outgoing person and used to going out 3 or 4 times a week, but then obviously things changed dramatically when the pandemic hit. This is when I knew I had to find a new hobby to keep myself occupied in the coming months while being stuck shielding at home from the virus.
Other than finishing Uni, I needed something creative and productive to do as well as playing games on my PC. As a keen fan of hip hop music, I decided to try my hands at making some songs with different software – firstly, Soundtrap. I've always listened to a mix of hip hop and most of its sub genres as well as rock and metal, so to make a hip-hop track was always something I wanted to try – So I thought now would be the perfect opportunity to start.
At the beginning I started with short beats with simple drums and synth patterns to gradually get to grips with the software before developing into longer tracks across a few different genres. Mainly hip hop with a few trance and rock instrumentals. Listening back, they weren't the best with a few off beats and dodgy transitions, but I could see they were gradually improving.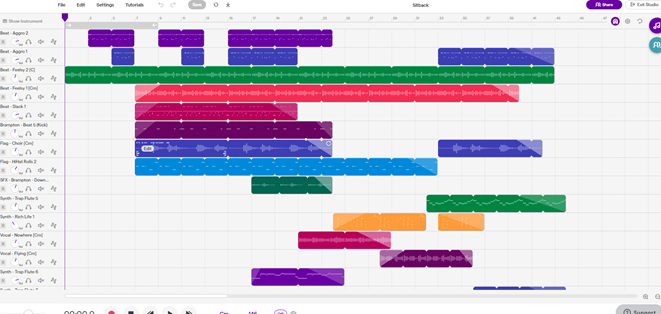 After learning how to use the software and showing friends and family some of the music I produced, my confidence began grow as I started to receive advice on ways to improve and work on structure.
I decided to post my first ever mix tape on Soundcloud with a few beats and instrumentals in May called Supermann Demo I which managed around 300 listens., It might not seem a lot, but I was delighted, considering it was first project.
At this stage I was confident enough to send some beats to local Scottish rappers that I think would be interested in using my beats for their songs.
But how did I get in contact? In a video I made for BBC social, I mentioned that I had started making beats during the lockdown to keep myself occupied. One of my Facebook friends who makes music videos got me in touch with some local Scottish rappers that he knew. I then contacted a couple with a few examples to find out their thoughts. A handful responded and liked what they heard, with two asking for beats. Since then we've been sharing stuff back and forth and hopefully, he'll be releasing an EP at some point.
Since improving I ventured into making other genres like rock and metal since these are the two main genres I listen to. I've even started making songs with one of my PA's who plays guitar – to produce fuller songs with more instruments rather than samples from the software.
Overall, it's been lots of fun learning how to make music because it was always something I wanted to do and learning about the theory of music – considering the amount of music I listen to. Going forward I'm hoping to publish some of my music online on Spotify and other platforms.
Have you enjoyed reading Sanjeev's Pandemic Story? Check out some of our other stories in the same CREATE series: Marni's Pandemic Story
What is your pandemic story? Tell us about what you've created during Covid 19, and how it's made you feel.