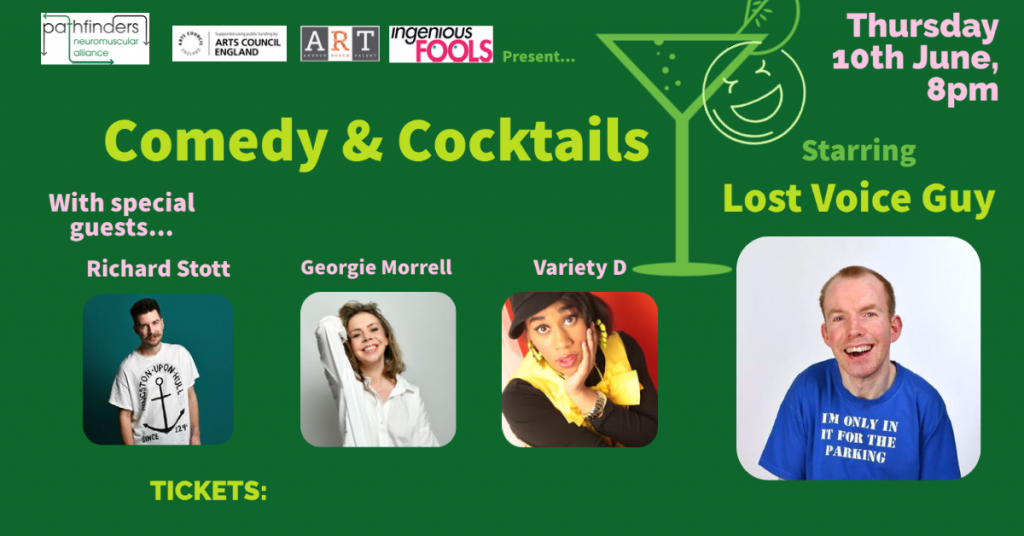 Pathfinders is delighted to announce a night of comedy and cocktails on Thursday 10th June – headlined by Britain's Got Talent winner, Lost Voice Guy – the first stand-up comedian to use a communication aid.
Our work relies on fundraising in order to keep doing what we do – and you love – from advice and advocacy to quizzes and conferences, and we are lucky enough to have Lost Voice Guy, Georgie Morrell, Richard Stott and Variety D to entertain us for a relaxed hour of cocktails from 8pm to 9pm, 10th June.
Whether you're a heavy tipple, or a mocktail drinker, you will enjoy this either way – as an incredible line-up of disabled comedians come together to help us raise funds.
It will be followed by a relaxed Zoom, to hang out, chat, and finish your drinks.
Ticketing is based on what you can afford – but any money you give goes directly to continuing the work that Pathfinders is doing for our community – so invite your family, friends, and colleagues for an evening that is both fun, and essential.