This month Benjamin is being recognised for contributions amongst the Duchenne community, in particular work on research projects and dedication to highlighting the needs of adults with a neuromuscular condition.

He has been involved with Pathfinders for some time including as a trustee for a few years. He saw being on the board as a great opportunity and a way he could be a voice for the Duchenne Community. He could see the value and authenticity in being a user-led organisation and was keen to promote this as much as possible.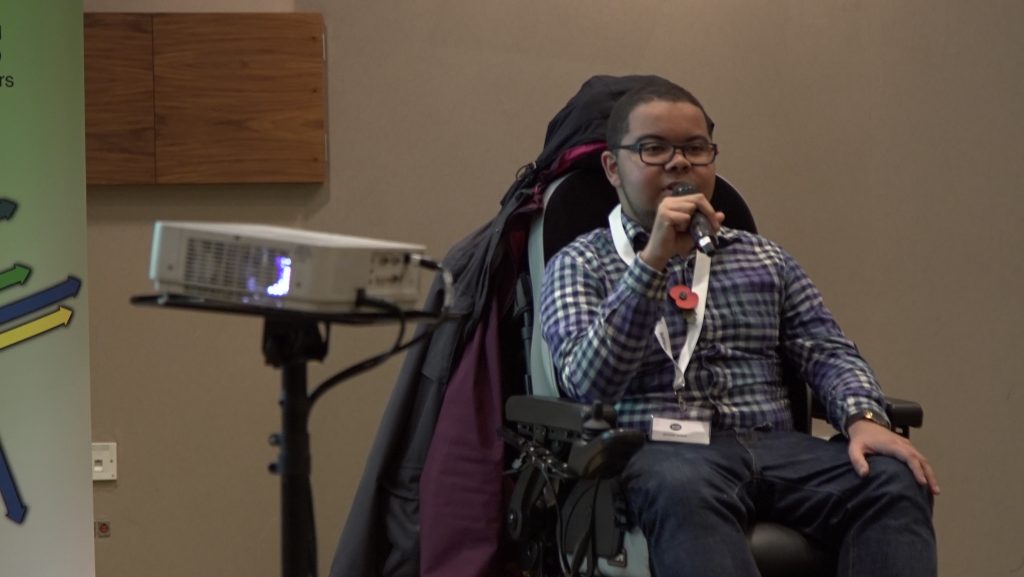 Benjamin has played a part in a number of important research projects including involvement in Pathfinders current Transition Project exploring experiences of young people with DMD as they become adults. His degree experience meant he could bring a valuable insight into research methodology and project planning. In addition, he sits on the Northstar Network steering committee as a patient representative.

His drive and belief in promoting independence and supporting the Duchenne and wider Neuromuscular Community can be see through many of his endeavours. He has worked alongside other charities as well. Most recently, Benjamin has spoken at the Action Duchenne Conference and has been part of working groups for Duchenne UK. His areas of interest have been standards of care, psychosocial aspects of living with DMD and to name but a few. Running through all his work is the importance of the lived experience and how integral it is to raising awareness and shaping the future for adults living with Neuromuscular conditions.

When talking with Benjamin about his work and achievements he pointed out that he has gained a lot from participating. It has given him confidence and self-belief plus a huge support network. He is keen to share his experiences and started writing a blog during his undergraduate degree. "I wanted to show you can have aspirations like anyone else and disability shouldn't hold you back". Not only did this give others an insight into DMD and life with a progressive condition but he tells us he found it helpful to write for his own personal development.

Having done a degree in Neuroscience and MSc in Science communication – which in a nutshell means "translating complicated science in a creative way" – Benjamin is doing a 6-month internship with Intent Health which he is giving him varied experience of health comms and PR. He hopes it will lead on to further work in this field.

Outside of work, making music is Benjamin's chief interest. He enjoys making and listening to music in his spare time (when he has time!). He has done a DJ course and particularly enjoys using beat production machines and can play drums and piano. Sailing is another passion that he would like to get back into soon and has attended sessions with Sailability offered by Frensham Sailing Club, Surrey. We look forward to hearing about what's next!