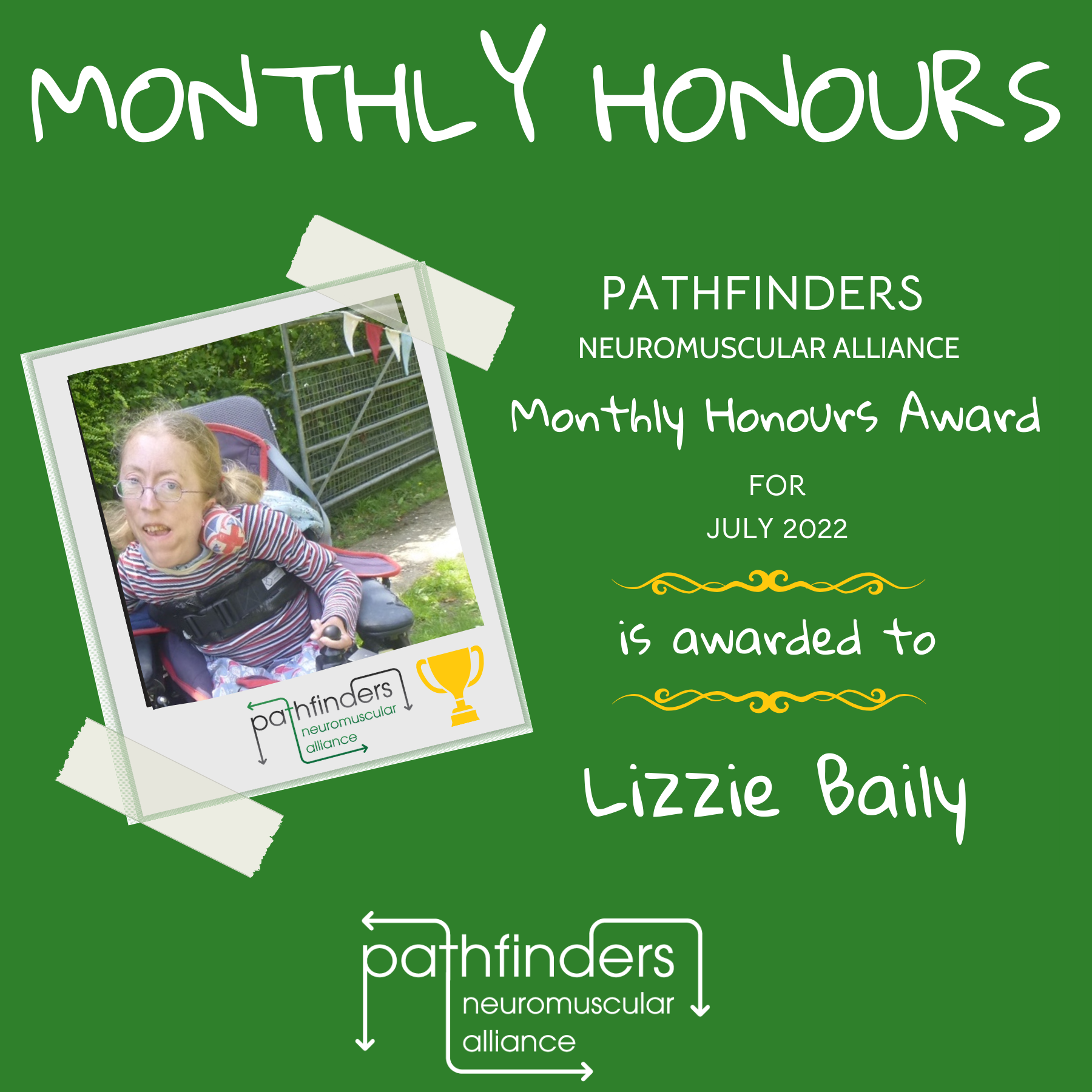 Lizzie Baily is this month's Monthly Honours awardee. This is in recognition of her fantastic work organising and running a craft club and regular inclusive family days.
About Lizzie Baily

Lizzie has been a supporter and member of Pathfinders. She joined after a friend who also has Congenital MD, the same condition as her, introduced her to the organisation. She thought it would be a great way to connect with other people with muscle-weakening conditions. This was something she never had as a child. Lizzie loves the fact that people can share ideas and ask questions on so many topics. She is an active member of Craftfinders, Pathfinders' crafting group.
Lizzie Baily's work
Lizzie Baily places a lot of value on connecting with other people on the Pathfinders Facebook group. This also shows in her work, past and present, with children and their families. She has been running her Craft Club from the art studio in her garden for children aged 4-11 since 2006. After 4 years she was able to fund places for children with special needs and their siblings through a local charity, Wellspring West Sussex, which she helps to run.
You can see pure joy and happiness shining out from the photos of the Craft Club over the years. Talking to Lizzie, the passion and commitment she takes in it in is clear. She has had great feedback in the time the club has been going including how lovely it is to see children creating and showing their work with such pride. "Parents have said that it is rare to find a club where the special needs child and siblings can do something together". Many former members of Craft Club have returned as helpers. This is testament to what a wonderfully welcoming, creative space Lizzie has made for children of all abilities in the beautiful surroundings of her family's smallholding.
Wheely Wonders
This leads nicely on to the other days Lizzie Baily is part of: Wheely Wonders. This combines forest school activities and crafts. Wheely Wonders runs days for families and carers who have children with special needs to attend together. They came about after the mother of a severely disabled little boy approached her friend, who ran Woodland Wonders Forest School from the Baily's smallholding, about him being able to join in.
Since Wheely Wonders has been running, they have welcomed over 140 children and young people with their parents, grandparents and other carers. All the family days are provided free of charge. This is funded through grants received by Wellspring West Sussex. They have also run similar days for other disability charities. A typical day will consist of Forest School in the morning with all activities adapted to needs of the children. Next, there is a picnic lunch followed by an afternoon of craft. That is on top of meeting all the animals when families first arrive. This includes two pygmy goats, two donkeys, sheep with lambs in spring, chickens and geese!
Lizzie Baily's Journey
Lizzie Baily did a degree in Childhood Studies at the University of Chichester. She went on to work with children at a local primary school. She has just returned to that following the pandemic, helping the children with reading comprehension. You can read more about Lizzie's educational journey here (link).

The University asked her to go back to talk to students doing a newly created degree course in Education, Special Needs and Disability. They awarded Lizzie an Honorary Masters in Education in 2019 for her achievements since her graduation in 2005. In addition, the DWP approached her in 2013 to join a campaign called Role Models Inspire. Lizzie appeared on video talking about experiences of working, the aim of the campaign being to raise the aspirations of young disabled people (link).
Personal life
In her free time, she likes spending time with her family. They enjoy crafting, playing games with her niece and nephew and going for long walks by the sea. Her favourite time of year is spring when lambs are born on the farm. Lizzie and her family live in such a beautiful spot that it's easy to see why she likes being outdoors! When the warmer weather allows she goes in their small pool. In 2020, Lizzie did a 100-day sponsored swimming challenge to raise funds for the Royal Brompton Emergency Covid fund. "The pool has moved house with us three times. It was donated to us when I was 4 by my father's army regiment who had heard how good swimming was for children with MD".
Changing Places
Lizzie is a big supporter of Changing Places. She would love to see many more CP toilets in every town in the UK. She would like all children to grow up with a caring mindset and do some sort of work experience supporting children or adults with additional needs. Lizzie also feels that the care sector should be made to seem a good career option, and that society should value it far more. "The government needs to listen more to the disabled community. We are only "dis-abled" by our surroundings and people who put up barriers!"

Congratulations Lizzie!