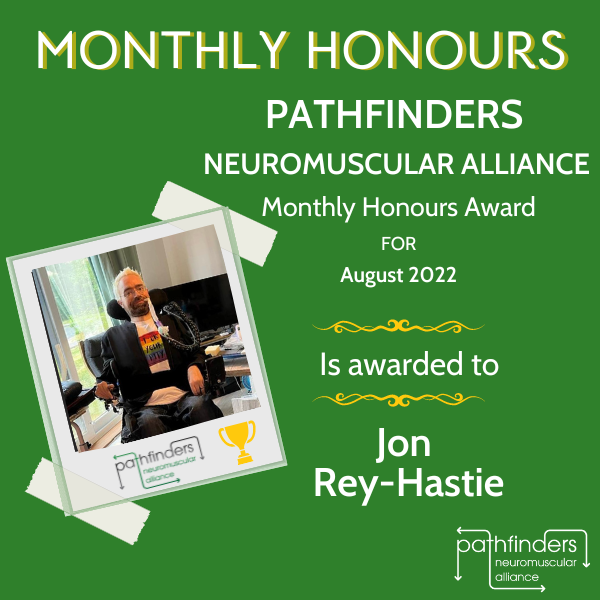 Here I am, another Pathfinder's Neuromuscular Alliance monthly Honours newsletter
interview to bring to you. This month is a rather special one and I feel honoured myself to be
given the task of carrying out the interview. Sitting opposite me is a man you should all
know as our much loved, former CEO and Co-founder, Mr Jon Rey-Hastie. Let's just say,
retirement seems to be suiting him well. As I ask how retirement is treating him, I'm met
with a familiar eye and corner grin.
"I wouldn't call it retirement. I'd call it a temporary pause between jobs."
And after a decade leading Pathfinders and blazing a trail for Disability Rights and the voices
of Pathfinder's members, it's a very well deserved pause. In this short piece we'll be looking
back to the foundations of Pathfinders Neuromuscular Alliance, even though it was just
called Pathfinders back then, and how Jon helped mold the organisation in to what it has
become today.
As I mentioned before, Jon, along with Mark Chapman, co-founded Pathfinders back
in 2014 with Jon as Joint CEO from 2016. After working with another charity, Action
Duchenne, a gap in the market was spotted and Pathfinders was born. But starting up a
charity hadn't always been on the cards for Jon.
"It certainly wasn't an interest that I had always had… I think it was more of a step by step process."
Getting on with University and making friends and getting his studies finished all took
precedence. Like most, young disabled people, Jon had very little contact with his disabled
peers. Having a disability was just another aspect of his life. It certainly wasn't a reason to
start a charity. That came around with Jon volunteering and being awakened by the Social
Model of disability, something that sits at the heart of Pathfinders Neuromuscular Alliance
today. It's amazing how a shared identity can change a person's perspective.
"I needed that change of perspective first… It was really powerful and I just wanted to get involved and make a difference."
That one small spark of realisation lead to the creation of Pathfinders Neuromuscular
Alliance and it filled the gap that Jon had perceived, whilst at the same time fulfilling a desire
within himself to make changes and to make a difference to the disabled community of which
Jon is very much a part of.
After helming the ship for eight years, six of those as CEO, it's an amazing
achievement to be incredibly proud of. So, if the company is doing so well, why leave now?
"Pathfinders has done really well securing funding for it's future projects, its key funding for projects like Uplift."
When talking about the Uplift project, the joy and pride is written all over Jon's face. Having
tried to secure funding almost from the beginning, the project was rejected several times. But
there's absolutely no bitterness in Jon's voice at all.
"I can see why they wouldn't take a gamble… The fact they are so eager to fund us as a user lead group speaks volumes of how far we've come as an organisation."
And the organisation has grown with so many projects still to come and so many already a
success. All of which Jon can be very proud of, as nothing comes with a few small barriers
that require careful navigation.
Six years at the top of a budding organisation, one that is still growing, would be a
massive achievement for anyone to be proud of, regardless of their physical ability. But to
have stuck it out on top of managing care rotas, illnesses and other associated disability by-
products, is even bigger and something to be incredibly proud of.
Pathfinders is now set for a bright future, the success of which can be built on the foundations laid out by its early pioneers. May it continue to grow for many years, helping more and more people along the
way. Congratulations, Jon. All of us here at Pathfinders wish you the best of luck with all of
your future endeavours.