DMD Pathfinders was co-founded in 2014 by Mark Chapman (now Chair) and Jon Hastie (now CEO) after working together for several years on a transition programme for young people with Duchenne, run by Action Duchenne. Through this project, a need was identified for an independent organisation to act as the voice of adults, sharing information and campaigning for better support and services.
In 2020, with the Covid-19 pandemic and the rapid loss of services for many people living with neuromuscular conditions, DMD Pathfinders took the decision to rebrand itself as Pathfinders Neuromuscular Alliance and to focus on working with and representing people with all neuromuscular disorders, not simply Duchenne muscular dystrophy.
Read more about Mark Chapman, our Honorary President and the trustees below:
Honorary President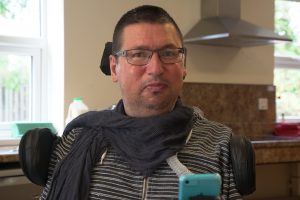 Mark Chapman is the Honorary President and one of the co-founders of Pathfinders. Mark lives independently in Edinburgh in his own flat, employing a team of PAs to support him. Mark has volunteered for many years for a range of disability and neuromuscular charities. He has an active social life and enjoys travel, theatre and spending time with friends.
Chairs of Trustees
Sarah Rose is a co-Chair of Trustees. She lives in East Sussex in her own home with support from a team of PAs. She completed a degree in English Language and Linguistics then a Masters in Education after which she worked in a school as a Language Support Assistant for 7 years. Sarah is currently a forum moderator for another MD charity and does research and campaign work for an advice organisation. In her free-time Sarah likes writing, making cards and doing crosswords.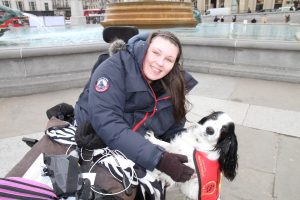 Lucy Watts MBE is a co-Chair of Trustees and has been a trustee of Pathfinders since 2020. Lucy lives in Essex with her mother and a team of PAs and nurses. She has worked on national and international palliative care policy, and national NHS policy, as well as running her own business. Lucy enjoys making videos and films, and spending time with her assistance dog Molly. 
 Trustees
Vicky Mozley is 42 years old, and works as a trustee for Pathfinders Neuromuscular Alliance and as an online Beauty Ambassador for L'Oreal. She was born with Congenital Myopathy which affects her muscles, including her respiratory system. She has used a ventilator and wheelchair since childhood. Vicky lives in East Sussex and spends her spare time watching films, listening to audiobooks, playing online games, and walking her assistance dog – a yellow labrador called Mclaren.
Our other trustees are:
Michaela Hollywood
Fi Anderson
Bryan Purdue