Pathfinders and its staff are made up of, and led by, people from the communities we represent. There are lots of opportunities to become a part of the team at Pathfinders, including jobs, freelance opportunities, and volunteering.
We are currently recruiting for trustees – meet the trustee team and find out more
Jamie Hale – CEO
Jamie lives independently in London with his partner and dog, also supported by PAs. His background is in organisational development – he founded and runs CRIPtic Arts, a disability arts organisation, and in health and social care policy and research. According to the Shaw Trust he was one of the 100 most influential people in the UK in 2021 and 2022. He also works as a creative and are an award-winning poet and screenwriter. When having fun, Jamie enjoys the arts, cooking, gaming, and travel.
Michaela Hollywood – Deputy CEO
Michaela Hollywood is the Deputy CEO at Pathfinders. She studied at Ulster University, obtaining a degree in Public Relations, and then specialising in Political Lobbying for her Masters. Michaela has also been recognised for her work on disability rights and inclusion, including by Prime Minister David Cameron and BBC's 100 Women in 2015. Having worked in the charity sector for 6 years, Michaela has staff experience in working with disabled people on campaigns and personal development. She lives in a small village in County Down, Northern Ireland with her parents, her blind dog Charlie and her sisters (who live next door). Michaela employs a team of PAs to enable her independence at home. Additionally, in her down time she enjoys watching snooker, playing The Sims, following American Idol, watching sci-fi or Disney, and volunteering on other projects for disability rights.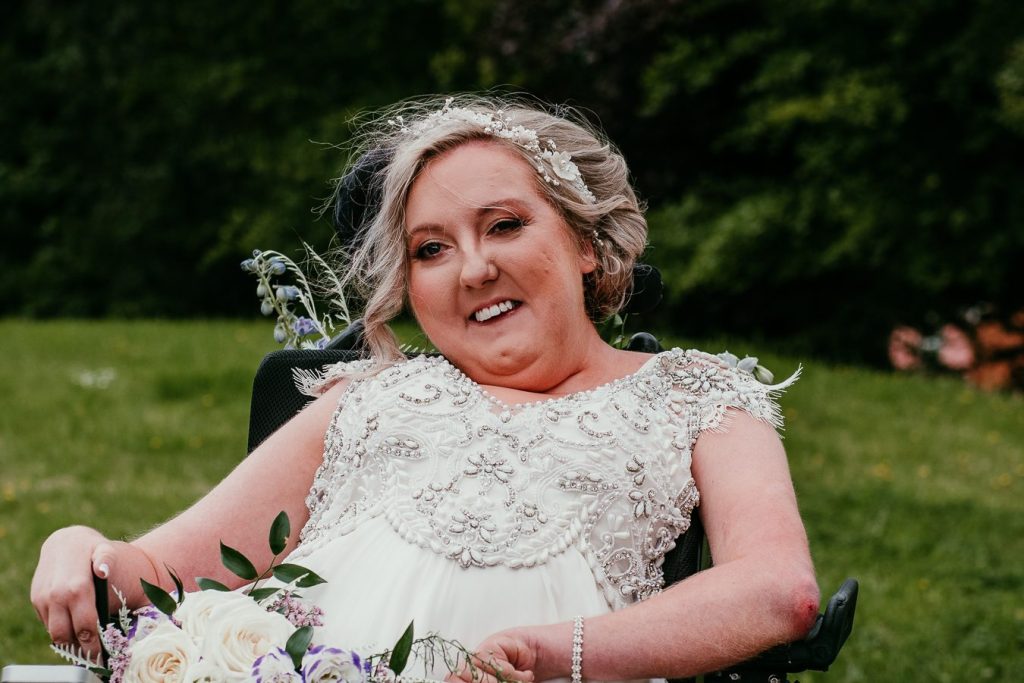 Suzanne Glover – Research Officer
Suzanne Glover is the Research Officer for Pathfinders. She lives in a small town in Northern Ireland with her husband, Colin and their Greyhound, Edith. Suzanne completed her PhD in March 2021 which looked at resilience in those who care for someone with Duchenne Muscular Dystrophy. Her current project in Pathfinders is researching transition to adulthood for young men with DMD. Suzanne enjoys getting out and about with Colin and Edith for walks, particularly around National Trust properties. She is also a massive fan of tea drinking!
Quinn Clark
Quinn Clark is the Research Assistant at Pathfinders. They are an award-winning author, poet and researcher from Newcastle upon Tyne, whose work often intertwines themes of trauma, mental health and disability with humour and wordplay. Quinn is also a Personal Assistant to Pathfinders CEO Jamie Hale, and they support a variety of creatives as a freelance Access Support Worker for Arts Council England. Currently, Quinn is working on their ACE-funded science-fiction novel Out of Your Depth, about a man who grows tentacles when he touches saltwater. When they're not writing, Quinn likes to collect sea glass and hunt for lost media!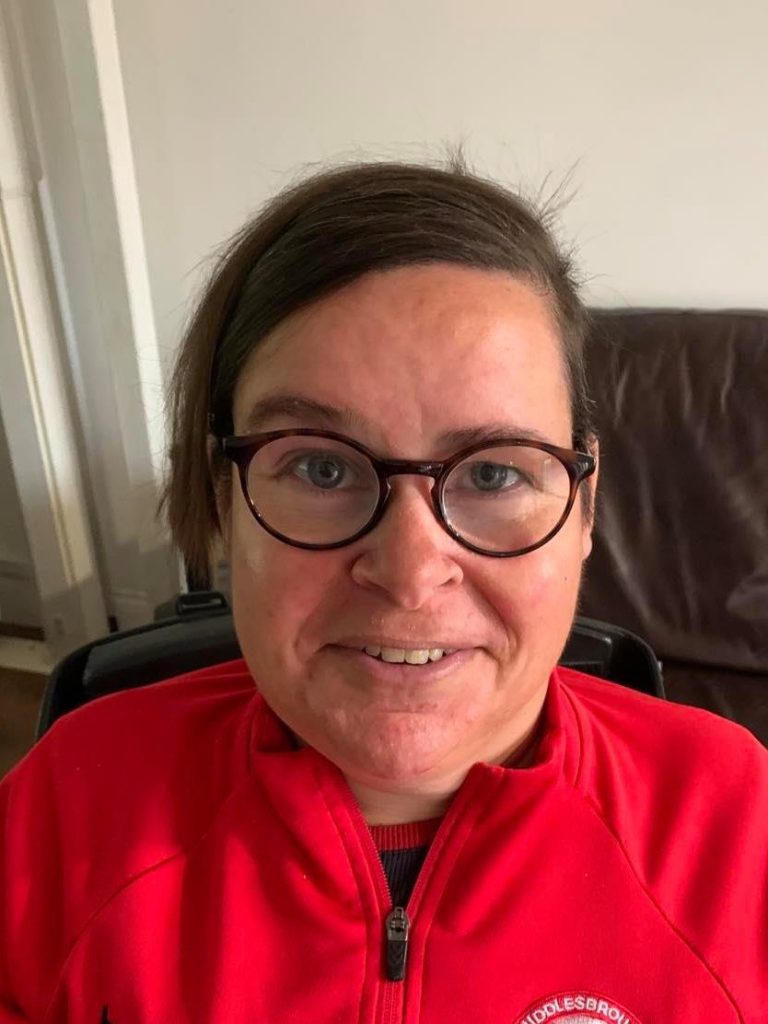 Cath McNicol – Uplift Project Lead
Cath McNicol is the Uplift Project Lead at Pathfinders. Uplift is our youth development project which supports young people with muscle weakening conditions to build skills and confidence, and campaign for social change. In her free time, she is a trustee for the Wheelchair Football Association and coaches and plays at a club in Middlesbrough. She loves to travel and, with her partner, is currently having a go at a self build campervan.
Jacqui Adeniji-Williams – Uplift Project Officer
Jacqui Adeniji-Williams is the Uplift Project Officer at Pathfinders. She lives with family in London. As well as being part of the Staff Team at Pathfinders, Jacqui is an ambassador for multiple organisations that she holds close to her heart because equality, community, and exploring different art forms is something that Jacqui is passionate about. She works cross-field towards positive change for all. In her spare time, she is also devoted to the exploration of theatre, music, poetry, songwriting, and performing.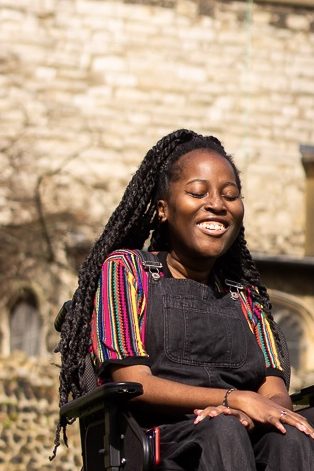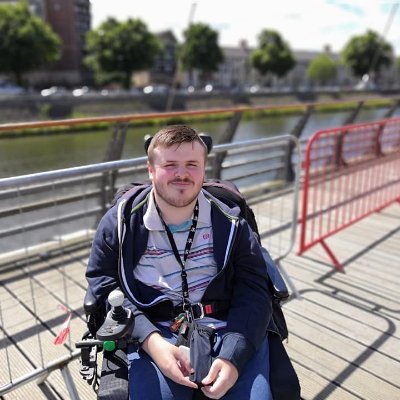 Kyle Jenkins – Uplift Project and Campaigns Assistant
Kyle Jenkins is the UpLift Project and Campaigns Assistant for Pathfinders. He lives independently in Carmarthen, South Wales, assisted by a team of support workers. Kyle completed his BSc Undergraduate in Applied Computing in June 2018 at the University of Wales Trinity St. David and most recently completed his Postgraduate diploma in Advanced Software Technology in September 2020 at Swansea University. Kyle is an avid football fan and is also a member of the Red Wall (Welsh football's supporter club). He loves nothing more than supporting Wales at matches when they play at the Cardiff City Stadium. He is also a passionate fan of Liverpool Football Club. Kyle also enjoys gaming, drinking his favourite rum and attending music gigs and large
stadium events.
Connor Brockbank – Uplift Engagement and Support Officer
Connor Brockbank is the Uplift Engagement and Support Officer for Pathfinders. He lives in Manchester with his partner and cat, having moved from Cumbria in 2013 to study at The University of Salford. After gaining a BA in English and Creative Writing, Connor completed his MA in Film Studies at the University of Manchester. Screenwriting and all things film and TV are his biggest interests, and representation in these fields is something about which he is passionate. Connor is also a huge fan of videogames and non-fiction books. 
Sam Cornelius Light – Advocacy Officer and Independent Living Officer (PA Training)
Sam Cornelius-Light is both the Advocacy Officer and the Independent Living Officer (PA Training). Sam lives independently in a bungalow in Bristol with his cat, Barry, and is supported by PAs. He has a First Class Honours degree in Human Geography from the University of the West of England. Sam has worked on a variety of projects with organisations such as Bristol Disability Equality Forum and the West of England Centre for Inclusive Living. He recently made a BBC Radio 4 production around the challenges of finding accessible housing.
Outside of work, Sam has a passion for music from all over the world and loves going to gigs and festivals. He also enjoys travelling and exploring new places in his wheelchair accessible vehicle. His other interests include: gaming, history, reading, films and going on walks in nature.
Charley Walker – Independent Living Officer (PA Employer Training)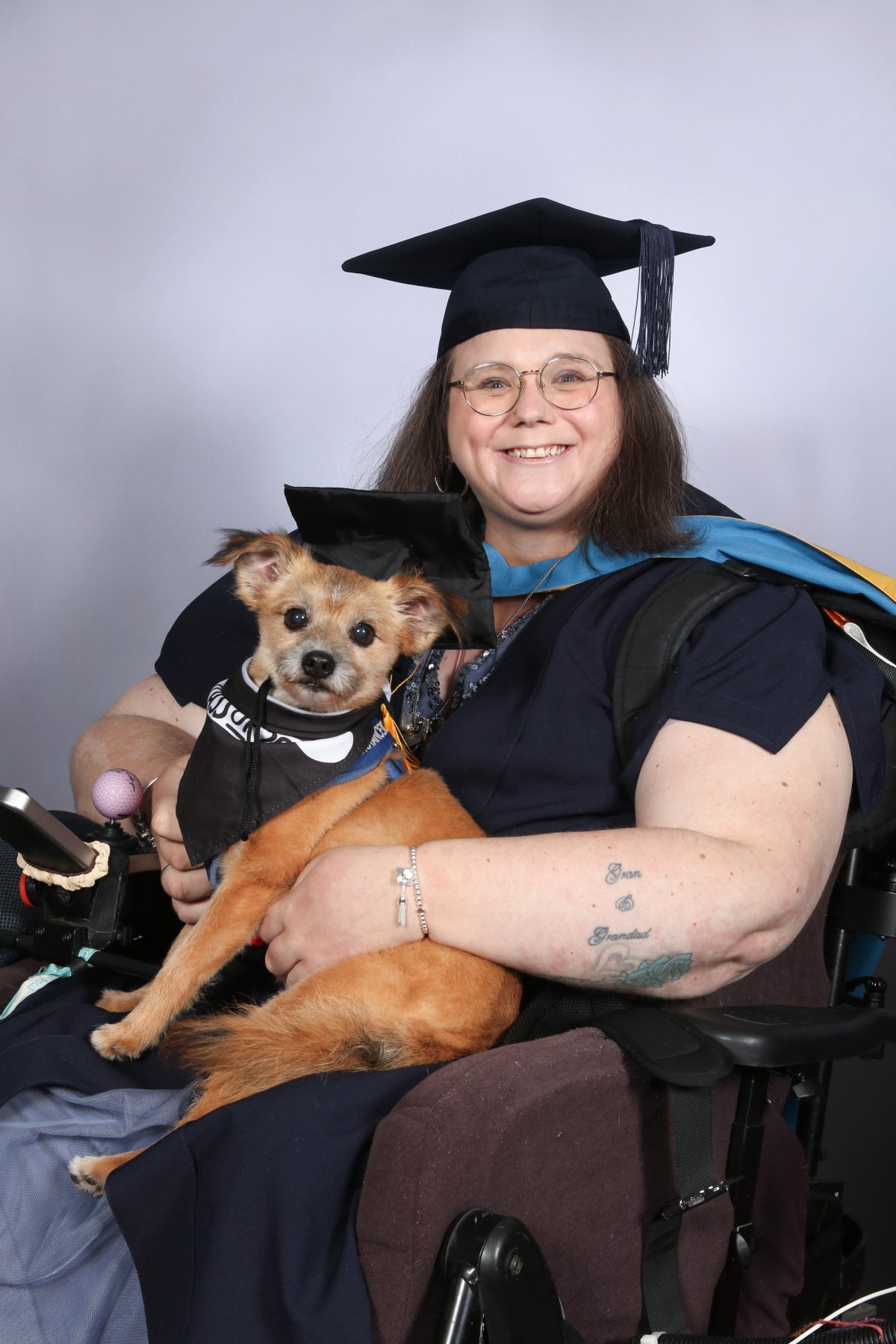 Hayleigh Morrow – Campaigns Officer
Hayleigh Morrow is the Campaigns Officer at Pathfinders. She is passionate about raising awareness on disability issues and empowering others to find their voice when campaigning on a number of issues. She lives in the west coast of Scotland with her family and three Scottie Terriers.
She loves to travel and has a keen interest in all things spooky. She completed a Doctorate of Fine Arts in 2019 and published her debut novel in 2020. She is also a script writer and is currently working on a screenplay.
Adam Langley – Social Media and Outreach Assistant
Adam Langley is the Social Media and Outreach Assistant for Pathfinders. He lives in Mansfield with his Family. Adam completed his BSc Undergraduate Degree in June 2019 at the University of Derby, which focused on data analytics, web design, the blockchain and smart technology. Adam enjoys gaming, drinking cocktails and tea, attending music gigs and festivals, and also plays Powerchair Football nationally for Nottinghamshire Powerchair Football Club!
Kate Mellor – Administrative Assistant
Kate Mellor is the Administrative Assistant for Pathfinders. She lives in Berkshire on her own supported by a team of PAs. Kate graduated from The University of Winchester in 2016 with a degree in Digital Media Design and she also enjoys theatre, film and anything creative! Travelling is another of Kate's favourite things to do and in 2018 did a coast-to-coast road trip of the USA. Overall, Kate spends her down time with friends, family and Netflix.
Karla Baker – Content Writer and Editor
Karla is our Content Writer and Editor. She also writes for a number of magazines in both
the travel and disability sectors, and does digital marketing for some small businesses. Her passion is travelling with her partner in their wheelchair accessible touring caravan, and
sharing the accessible destinations they discover with their ' Adventure Wheels ' audience.

When she's not working or travelling, you'll find her buried in a book and/or enjoying some
rare British sunshine!